Why You Should Be Wearing Tie Dye
Tie dye has been around for decades and was worn to death in the 60s and 70s as a flag of the hippie movement. However, it has been making a strong return in the fashion scene over the last year. Designer and streetwear brands alike have been making their own interpretations of how tie dye can be worn and made. In addition, it can even be seen worn by the likes of fashion icons Jonah Hill and Kanye West along with artists such as John Mayer.
Tie dye isn't always just the typical rainbow swirl or stripes, but has endless possibilities of different patterns and colors, so the creativity involved can go in many directions. Here are some ways that brands have been thinking outside of the box and doing tie dye in their own style.
Daily Paper x What We Wear
This collaboration between Daily Paper and What We Wear puts orange bursts on a black hoodie for a darker and more fiery look at tie dye.
Carhartt x Kinfolk
This Carhartt and Kinfolk collaboration piece gives an interesting tie dye twist on the classic Carhartt carpenter pants. The bright orange colorway is sure to turn heads and create a unique fit.
Online Ceramics
Online Ceramics has a variety of tie dye pieces that use creative and unique color palettes on psychedelic graphics. Combined, you get some trippy and bold imagery that looks amazing and makes a statement.
Rokit
Rokit takes a color blocking approach to tie dye and creates a sort of rainbow sherbet colorway for this hoodie. It is loud and colorful, but much more refined and composed than most other tie dye pieces out there.
Gosha Rubchinskiy
Gosha Rubchinskiy uses dark reds and greens to tie dye this bomber jacket. The dark and moody colors give off a more gloomy vibe than typical tie dye colors.
Needles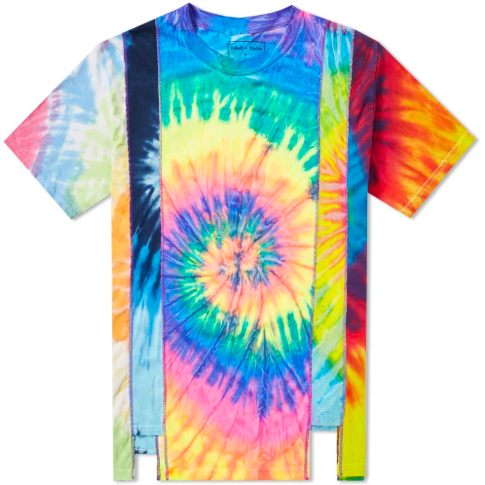 Needles takes iconic tie dye designs and reworks them into one of kind reconstructed pieces. This creates a varied look that is fun to look at in terms of color and fit by having each segment be a different length.

Stussy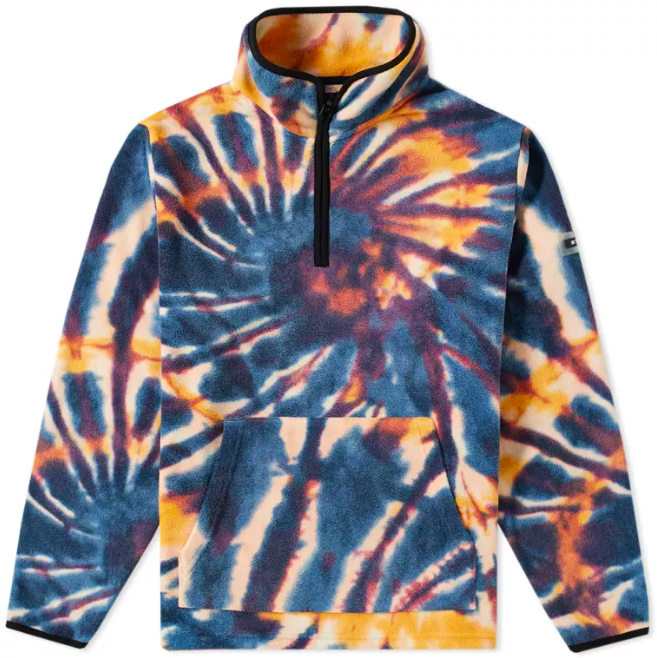 Stussy uses bold designs and strong colors to create eye catching pieces. Their use of darker colors and negative space makes for an edgier and more casual vibe.
Heron Preston
Heron Preston tie dyes this hat to make a high contrast blue and orange gradient. This is a very simple tie dye, but brings new life into a simple dad hat.
When it comes to styling tie dye, you can take it in any direction. Since it can be any color, it is great for making color matches and complements with other parts of your outfit, or you can use it as a standout piece with a more neutral outfit. Tie dye is great for creating bright and colorful outfits that are both complex but well put together at the same time.
Hopefully when you think of tie dye now, your mind doesn't instantly wander to the typical swirls and rainbows that have been the standard of the last 50 years. Tie dye is really an art form in itself, and its bounds are being pushed by streetwear and designer brands alike. New methods of dying being used on unique garments have lead to innovative designs that will certainly outlast the hippie designs of the past.
Words by Andrew Powers