Modern Day Fashion Icons, Who's Ahead?
2018 was a tumultuous year in fashion; big houses like Louis Vuitton, Dior, Celine and Burberry all underwent major changes in the menswear department as they appointed new creative directors. The two biggest names in the rotations were Virgil Abloh, a Chicago native who climbed the ranks of fashion with his work at Off-White and Kim Jones, the British designer who had just left his job at Louis Vuitton after successfully making the brand more appealing to a younger audience. These two modern fashion icons are great friends but as Virgil took over at LV and Kim Jones joined Dior, many of us were anxious to see if one would come out on top of the other. They were both taking on new roles, they both showed within the same month, and they both had an appreciation and a knack for elevating streetwear to a high fashion level. However, neither could get away with a simple graphic tee as the world watched, they had to step up to the plate.
The Runway Shows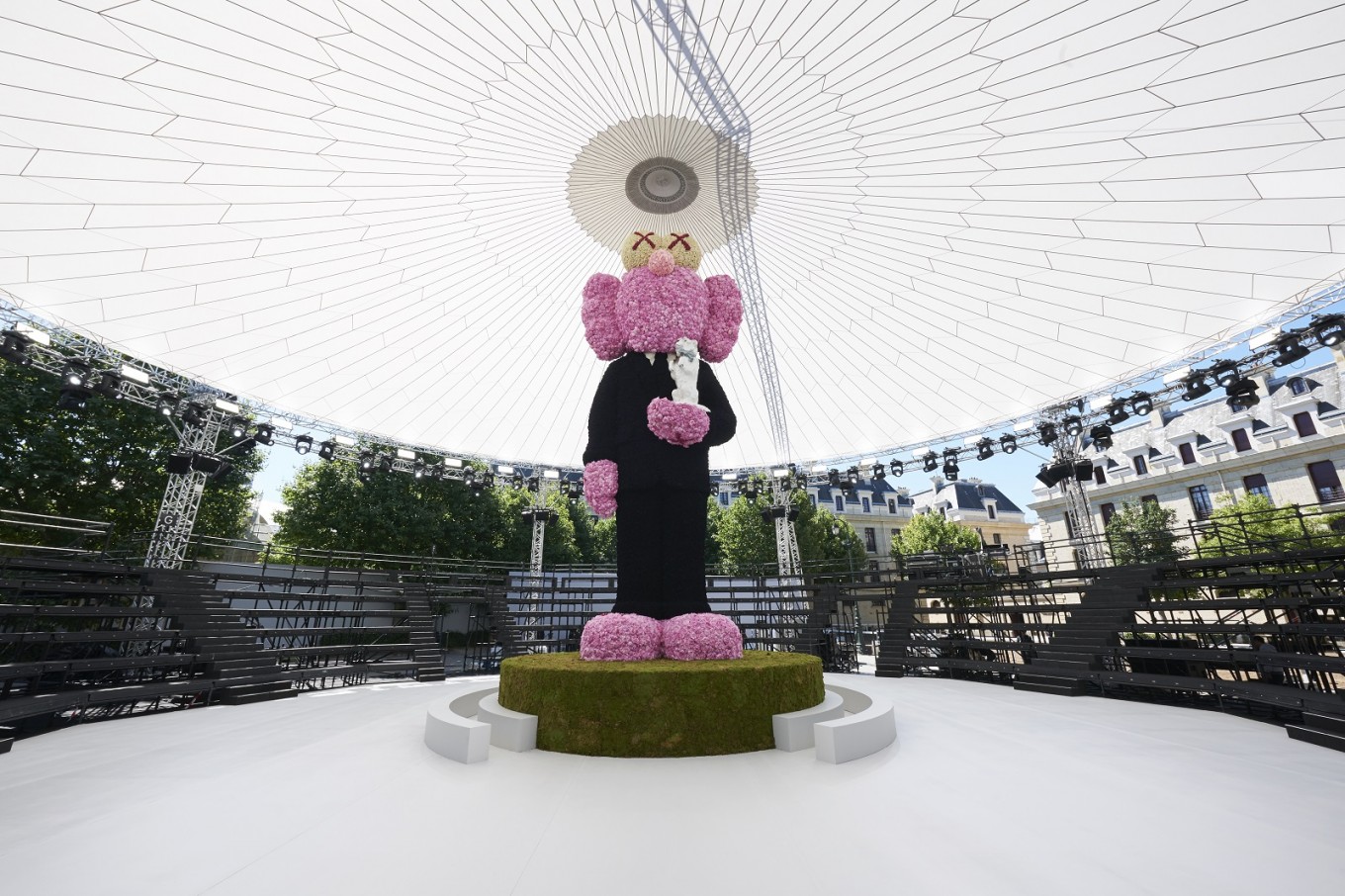 It is difficult to say who had the more impressive show as both were eye capturing and needless to say, Instagram ready. The rainbow-colored catwalk on which the diverse cast of Louis Vuitton models paraded, went along well with Virgil's theme for the show, The Wizard of Oz. The looks were accompanied by instrumentals to Kanye's newest album ye performed by BADBADNOTGOOD. Meanwhile Kim Jones opted for a 33-foot tall Kaws, a contemporary artist, designed "BFF" statue which was hard to miss on social media that week. There was a certain serenity and elegance that lingered at the Dior show despite this new and bright energy that the designer brought, a difficult balance to achieve.
The Clothes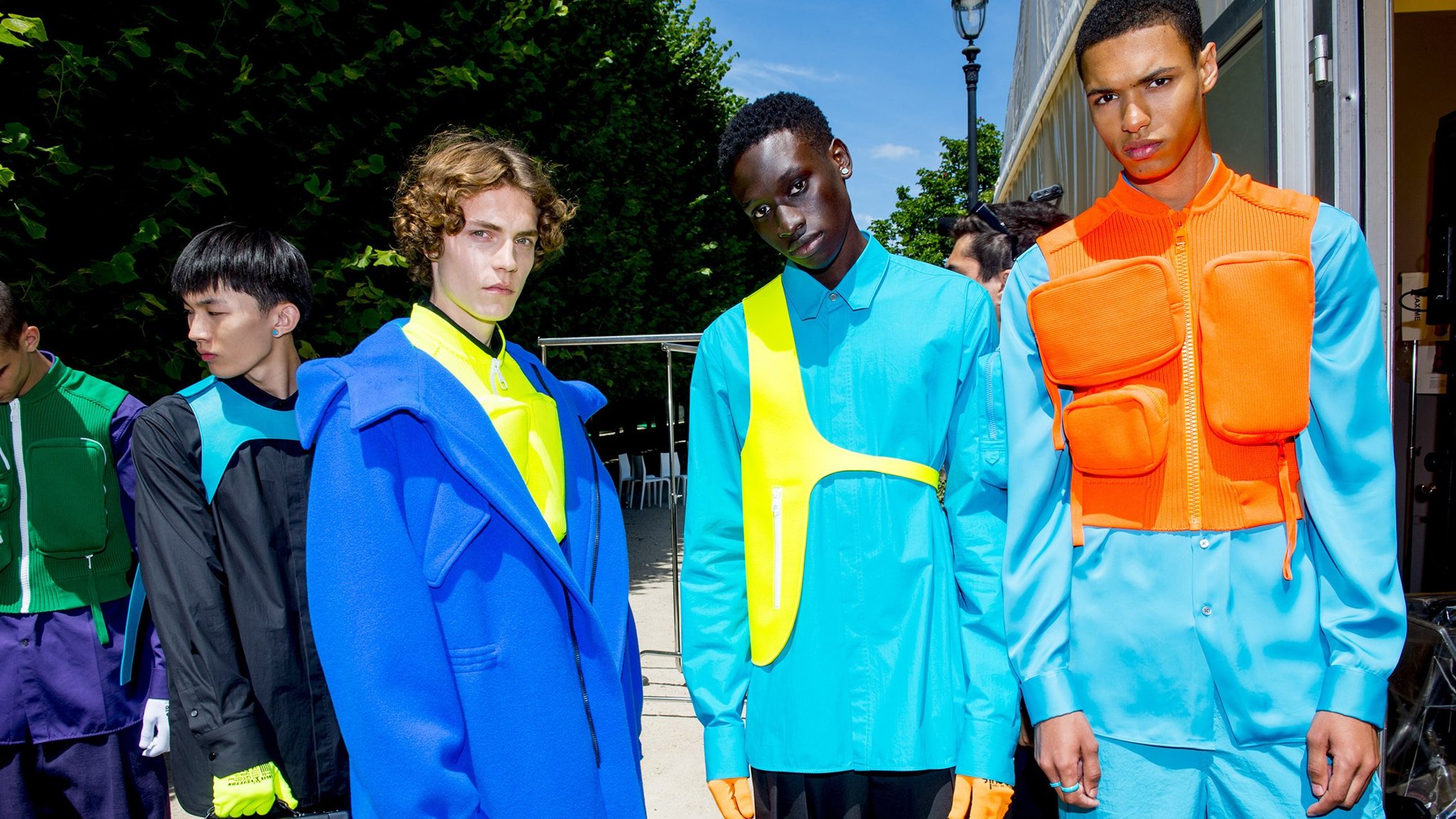 Nobody could really predict what either designer would do at their new house. Virgil's past menswear collections were often too streetwear focused for a traditional maison like Louis Vuitton. Instead of giving us an array of graphic tees as some feared, Virgil masterfully reinvented the brand's offerings. With pieces that were hybrids between an item of clothing and a bag, a nod to LV's history as a luggage and bag manufacturer, Virgil was able to quiet the haters. Those who are not pleased by colorful and bright, pocket-filled gillets and baggy pants, were content with Virgil's tailoring, not exceptional nor particularly eye-catching but solid… very solid.
Dior's collection, although not as colorful or youthful as LV's, included some beautifully tailored pieces that will appease the traditionalists and purists. In addition, Kim Jones enlisted Matthew M Williams, the founder of Alyx, for many of the garments. The latter adding modern yet elegant touches with his innovative buckles and knack for utility fashion. Those who are fully into logomania were also given something as Kaws gave his own spin on the Dior logo, including an adorable bee, one of Dior's symbols. The collection also included a Converse look-alike embellished with a reconstructed sole and a semi-transparent body covered with Dior's monogram, a rarely seen pattern which Kim Jones cleverly decided to bring back into rotation.
Conclusions
It is hard to decide which designer is on top after their first collection at their new houses; it truly comes down to personal preference. Although there is a lot of hype behind Abloh and his character, innovative design and clever marketing respond to that attention correspondingly, I personally prefer Kim Jones' collection due to its serenity and timelessness, something that Virgil maybe lacked with his very trend-based and in the moment collection.
Both of these designers embody the new wave of fashion: a rapid pace game that has to both appeal to its traditional consumers as well as the youth who are pushing for a more streetwear driven fashion world, all whilst staying relevant on social media, the industry's newest and most powerful advertising tool.
Words by Albert Tres