Pantsuits Are the New Black
When you think of what you're going to throw on for your 8am in Dwinelle, it is probably not a pantsuit. But according to the main source of my information (women's lifestyle magazines) pantsuits are, in fact, in. While you might only associate the pantsuit with Hillary Clinton, there are ways to style it so you don't end up looking like you're chained to your cubicle. But first, let's take a step back and look at the pantsuit evolution, because this clothing item has an iconic history.
The 1960s was a revolutionary time for women.The second wave of feminism was taking off and the debut of the Le Smoking Suit, which some herald as the first pantsuit, was created by Yves Saint Laurent. In 1966, Women's Wear Daily declared that "American women are going to want to burn all the clothes they have when they see this." Nonetheless, wearing sporting slacks instead of skirts was still extremely controversial at the time. Socialites in Manhattan were literally barred from dining in restaurants simply for wearing Le Smoking.
The business boom of the 1980s, and the dress for success trend, saw a national rise in the pantsuit. At this point, the trend of shoulder pads and oversized pants was meant to disguise feminine bodies: taking the focus off of gender, effectively causing women to dress up as men. A famous symbol of this era was Melanie Griffith's boxy suit in Working Girl highlighting the boxy silhouettes woman wore in and out of the workplace. Yet, this trend didn't make its way everywhere: woman still could not wear pants on the senate floor until 1993.
Today, the most prominent place the rise of the pantsuit can be seen is in the political world. Hillary Clinton famously wore a different pantsuit seemingly everyday during her Presidential Campaign. And at her husband's State of the Union address, Melania Trump wore a white pantsuit, styled over a white blouse; an outfit that had been synonymous with Clinton and feminism, almost a sort of anti-Trump uniform. Melania was sending a message of her dissatisfaction with her husband, using her clothes as a subversive tool to convey her feelings because she knew she could not speak them.
Politics today has invaded almost everything, including high fashion. Marc Jacobs paid homage to the cooperate 80s style, Loewe featured sliced open jacket sleeves, and Balmain included an army marching in a wide range of styled suits from glittery metallic to completely see through.
Pantsuits epitomize everything special about fashion: without speaking, the clothes that adorn you can be a reflection of everything you feel. A century after women could be arrested for wearing pants, the powerful suit still reflects the aspirations of women seeking to defy gender norms.
So now that we've covered the history of the pantsuit, here are some tips to help you style it for everyday use. Have a job interview coming up or do you really want to impress the new consulting club you're rushing? For that, we recommend sticking to the classic cuts and neutral colors, complete with stereotypical business casual wear like flats or pumps. But, if you're looking for some fun looks inspired by the suit to wear around Berk, here you go.
Bright Colors
It's not just in the pantsuit world: bright monochromatic looks are having a huge moment. While head to toe black might be preferred for your hot yoga class, color heavy looks are the new black in all other spheres. Vibrant colors such as bright blue or bold red would pair well with a basic white t shirt underneath and very simple, neutral accessories so as not to distract from all on the color. If simple block colors aren't your thing, striped pant suits are the next best thing: the look has been seen everywhere from European Film Festivals, Fashion Weeks, and, now, in that discussion to really impress your GSI. Pair your stripes with a black tee and low-top sneakers and you're all ready to go. If colors aren't really your thing, channel your inner suffragette and done all white. Style this with gold jewelry and/or some nude shoes to compliment this light neutral style. Super hot outside? Keep the top blazer but instead throw on some matching colored shorts, or just wear a lacy black bralette underneath and keep the jacket open.
The Street Suit
This look breaks the traditional pantsuit tropes by not being super high fashion or corporate. Opt for different prints like checkered or striped, but if that doesn't float your boat stick to a dark neutral tone with a loose fitting cut. Style with a statement or white tee underneath, making sure to keep the jacket open to showcase it. Wear your favorite sneakers underneath and cuff up the bottom of your pants to show them off. However, if you want something a little more form-fitting, we've got you covered. Make the pants high waisted and pair them with a form fitting crop top, again, leaving the jacket open. For these looks, feel free to pile on the accessories and jewelry.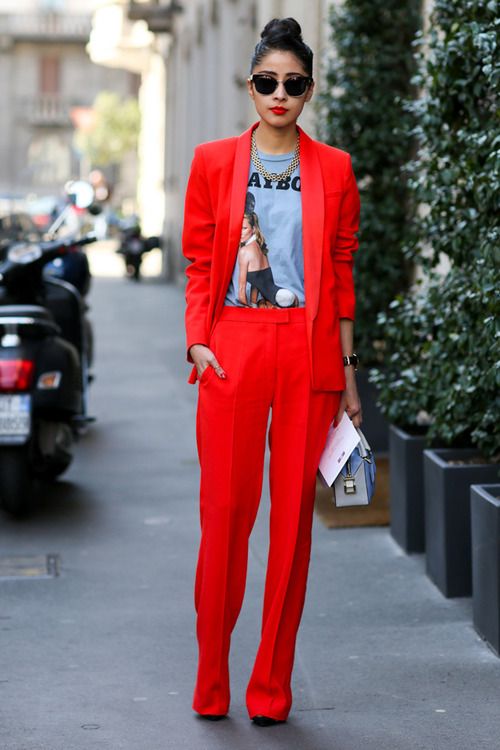 Pajama Suit
Love the pantsuit but know that you're super lazy and will never actually be motivated enough to pull one together? Meet the pant-suit's equally chic cousin, the pajama suit. Super comfortable and also very on trend with the super popular loungewear fad, this is something you could rock for that 8am. Pajama enthusiast Christine Crasto says her favorite outfit for morning classes is the outfit she went to bed in the night before. Opt for some bold, bright matching prints. If it's a little chilly out throw on a neutral colored robe over, make sure it matches the fabric of the pajamas underneath. If your pajamas are a little more casual try and make the coat and accessories more polished to counter the relaxed vibe underneath; the opposite works if you're wearing fancy PJs.
The JumpSuit
Pantsuit a little too formal for you, even with all these fun alternatives? Don't worry we're still here for you: enter the jumpsuit. The most comfortable jumpsuits usually have more relaxed fits, making them perfect for coffee at FSM, or cutting across campus between classes. Make sure you utilize the drawstring or elastic waistlines to avoid a frumpy or shapeless look. Try and shy away from wide legs since that style usually works best with heels. While that makes for a fun aspirational fantasy, in reality, heels would cause all of us to tumble down Berkeley's hills. Pair with flats or sneakers, just keep the hem length in mind so the hems aren't pooling at your feet.
So the next time you want to feel fancy and resist the patriarchy, ditch the girl power tee and rock a pantsuit.
Words By Zara Khan